MY FIRST IMPRESSION ON THE FIRST BATCH OF DELEGATES
by Joseph Vitug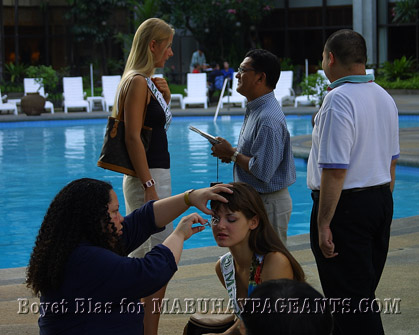 I have a confession to make: I have never met international pageant delegates up close. I was merely four years old when the Miss Universe Pageant was first held here, and when it came back 20 years later, I didn't have the connections (though I got to witness the Santa Cruzan procession of the 1994 Miss Universe delegates at Rizal Park – I remember eventual winner Sushmita Sen greeting the watchers with "I love you" and I think she's also telling them that phrase in Tagalog, if I'm not mistaken). The arrival of the Miss Earth delegates is going down in my personal history as a milestone – as being a member of Mabuhay Pageants I got the privilege of finally meeting the beautiful women from around the world whom I simply admired or reviewed from afar.

So when the delegates arrived and I got the message from Boyet about an initial gathering of the delegates who have already arrived by today (October 7), I took the opportunity after my usual family Sunday ritual (mass and a movie – today it's "America's Sweethearts"; a fine comedy in my opinion with Julia Roberts, Catherine Zeta-Jones, and Billy Crystal in top form – very worthwhile treat) to hie off to the hotel where they and the Carousel staff were all billetted.

I got to see the people from Carousel Productions up close hard at work putting the pageant together. I appreciated their efforts greatly – and I think they are doing a good job so far amidst a lot of obstacles (compounded by the tragic events of September 11 that led to a lot of fear and trepidation for many countries planning to join). I'm definitely grateful for the wonderful treatment they are giving us.

From the 12 ladies that were already here so far, I can expect a high level of competition. With the likes of Mz. Brazil and Kazakhstan still on the way, prepare for exciting moments ahead.

Anyway, here are my impressions of 11 of the ladies I met today at the poolside and the hotel (Miss USA cannot come down because she's still have to overcome her jet lag)…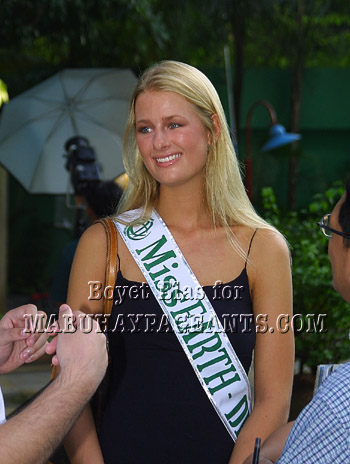 DENMARK. Statuesque Nordic blonde who isn't afraid of wearing a string bikini like the hot black number you'll see soon in this page. Looks like a very bright lady – she's a law student, by the way.

ESTONIA. Everything that is written about her personality is absolutely true. And, as Gerry said, she's also more gorgeous in person. I'd like to have a down to earth conversation with her, but I cannot quite manage it because I'm so in awe with her. I cannot help but lavish her with praise because she really deserves it. Among my platitudes: how we need people like her especially in times like these, and how I admired the fact that she exudes such joy and a zest for life. She also has exquisitely smooth fair skin that is very noticeable when she wore her swimsuit. A front-runner in my opinion.

INDIA. Her modeling experience has served her very well, as she seems prepared for everything – and we first met her when she just arrived from the airport. She looked fresh, polished and stylish – remember how a typical person would look beat down and worn down after hours of travel, Shamita was definitely not that kind of person. She is also intellectually sharp and articulate – and very gracious and friendly, too. Definitely a leading contender in this pageant and a much better delegate than the Miss International representative Kanwal Toor or arguably even the Miss Universe rep Celina Jaitley.

ITALY. Watch out and prepare to be enthralled by this girl. She's a sweet, innocent 18-year old ingenue who's wrapped in a sizzling, smoldering, ssssssssssssmoooookin' package. Long and lissome legs, smooth olive skin, beautiful curly black hair, and irresistible green eyes – men will definitely turn their heads when they see her.

JAPAN. A very sweet Psychology graduate taking further studies – I'm so surprised when she's actually familiar with my work at the mere mention of my name.

LATVIA. Two words: Ashley Judd. Way more gorgeous than her initial photograph and statuesque at 5'10" to boot. She's a hard-working student taking two separate courses at two different universities. I ask her how she manages to juggle such a potentially punishing schedule, she explained very simply: "day and night" (it means, one university has day courses, the other night courses).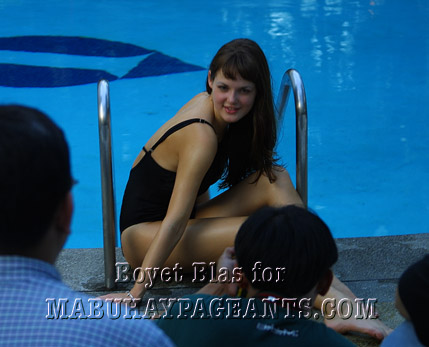 MALAYSIA. She's as sweet as Miss Japan. Very, very likable girl.

PHILIPPINES. She's much better now (and in person) than earlier photos would indicate. She looks chic, modern, and stylish. And she's fit enough to look good in a two piece bikini. She has a strong chance to make inroads to the Top 10.

PUERTO RICO. Very attractive spicy Latina. Statuesque at 5'10" (definitely she isn't 5'6").

SINGAPORE. She has a sophisticated vibe about her. She's currently studying in art school and has experience in Hawaiian Tropic and Miss Chinatown International pageants.

THAILAND. She, Miss Malaysia, and Miss Japan are sweet, charming, and adorable girls. Very oriental-looking despite the fact that she's actually half-German.

As it is, we have a high-quality field. If the remaining 30 other delegates arrive, it will make for some exciting and enthralling competition ahead. I wish all ladies well, and whether win or lose they'll make a strong impression to the Filipino public. I pray for Miss Earth's success…


JUST ME!

JOSEPH