THE MISS EARTH 2001 FUN MEET October 14, 2001 At exactly 2:30 PM last Sunday afternoon, the temperature ran up to 37 degrees at The Cogon Plaza of Manila Polo Club when the 37 Official Candidates to Miss Earth 2001 made a beehive to the poolside of this exclusive sports club for a Fun Meet. Supported by the pageant's major sponsors, this activity was meant to foster team play and wholesome fun among the ladies and invited guests. The venue's Board of Directors plus the officers and employees of Carousel Productions and Banco Filipino gamely joined in the affair as various games were played amidst the sweltering heat. The ladies - sans make-up and sporting identical white Miss Earth shirts with their choice of workout shorts - were divided into four groups. Chosen to be the leaders for each are Misses USA, Canada, India, and Estonia. Although they were visibly competing with one another to win the fun events, all of them took the opportunity to loosen up, play & run like children, and shout/laugh to their hearts' desire. Games like The Boat Is Sinking, Obstacle Race (where despite the roughness, Miss Brazil maintained her poise), Going to Market (where the male guests who joined were required to wear dresses), Egg-Catching (which Miss Italy handily won as she is a good catcher and where Misses Russia and India had their arms splattered with broken egg yolks), and Water Volleyball Relay (where Miss USA's team bested the other groups) were conducted. But instead of sharing the details of how these were actually played, I prefer to give you my observations half of the candidates in their most relaxed selves, now that Miss Earth activities have already reached Day 7:

Argentina (Daniella Stucan) - This lady never fails to amaze me! With or without make-up, her face is absolutely gorgeous. Onlookers never fail to give her a second and third look because of her commanding beauty and height. Her well-chiseled features are classic! I was also fortunate to have been the recipient of a kiss on the cheeks from her! Expect her to be in the Top 10 on October 28.

Australia (Christy Johnson) - This 5'5" beauty from down under has not come out of her shell yet. Seated side by side with the rest, this look-alike of Roswell's Shiri Appleby (but in an Australian blonde sort of semblance) looks like a high-school student who can pass off as a 15-16 year old. Having arrived late for the Miss Earth activities, she must have been overwhelmed by the aggressiveness of the stronger ladies and the earlier bonding made by everyone who came ahead of her. She seems more fit for a teen beauty contest.

Brazil (Simone Regis) - Inspite of the fun meet's rough-and-tumble nature, Simone is one lady whose poise cannot be denied. She gamely ran and swam through it all, but not once did she allow her guards down when it comes to looking and moving like a true beauty queen. Another Top 10 favorite!

Bolivia (Catherine Villaruel Marquez) - watch out for this one! Catherine is gradually making a strong impact with her pretty face (which changes looks depending on the kind of make-up she is wearing), friendly ways, and gracious moves. She was one of the few in the Fun Meet who came wearing high-heeled step-ins, but this did not stop her from joining the games. On the debit side, she is kind of bottom-heavy.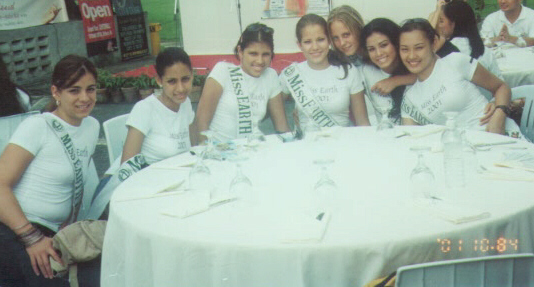 Canada (Michelle Weswaldi) - This girl has spunk! She is not your typically well-poised beauty delegate who measures her every move according to what the public expects of one. She has to work out a little more, though. In addition, she has to shine during interviews (where she could do well since she is a very expressive person.) In terms of facial features, she needs to project harder and use better make-up in order to hold her end against the favorites.
Croatia (Ivana Galesic) - She remains to be a Top 10 favorite of mine. After my one-on-one interview with her, though, I sensed something that may keep me from giving her a clear shot at the title. Being a Psychologist by profession, I was able to see through her (green) eyes and they speak of a certain sadness. She actually she told me that she is enjoying her stay in the Philippines so much that she does not miss home anymore. She may have expressed this in half-jest, but reading between the lines, I'm sure it meant so much more.
Denmark (Catherine Svensson) - During the games, I was able to interview this other "Catherine", and I must say that she is indeed one intelligent and well-bred woman. Behind that beautiful face and statuesque height of hers is a widely-read and highly-informed thinker who shines with her level-headed views and ideas. She wouldn't be a 3rd year Law student for nothing.
Estonia (Evelyn Mikomagi) - Her energy and consistency are just super! I wouldn't wonder if she will eventually snag the Congeniality Award during finals night. Likewise, her beauty never fades. As a candidate, she keeps on getting stronger as each day progresses. You simply can't go wrong with Evelyn. There is just no mean bone in her body, so to speak.
Ethiopia (Nardos Tilahon) - I thought she would not fit in during the Fun Meet because of her elegant ways (which comes as a result of her being an international fashion model as well). I was wrong! Letting her hair down (literally and otherwise) every minute, she laughed a lot and made faces like a child. She really knows how to have a good time.
India (Shamita Singha) - if you ask me, she is the most solid contender among the delegates. Well-rounded in all ways, both the candidates and organizers look at her with respect and admiration. It's true that her primary objective in joining Miss Earth is to win, but that does not mean she's not having fun. In my books, she has the best balance in terms of looks, figure, personality, and intelligence. Everytime I get to chat with her, she always speaks like a lady full of charm and warmth.
Kazakhstan (Margarita Kravstova) - I had reservations about Margarita before. My impression then was that she's all beauty with only mediocre substance within. Well, she changed all that during the Fun Meet after my interview with her. Aside from being kind and good-natured, she can turn deep the moment she starts expressing her ideas on more serious concerns which, in this case, are focused on environmental issues. The beauty of her face is likewise marvelous, especially up close.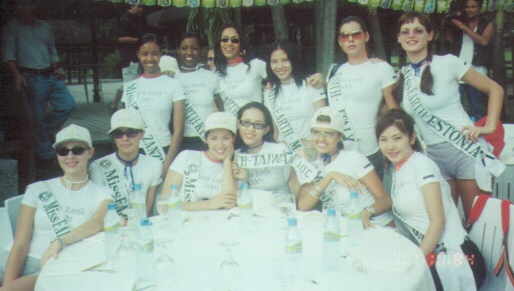 Kenya (Aqua Bonsu) - People are so enamored with Miss Ethiopia to the point where the potentials of Aqua are getting ignored. In fairness, Miss Kenya is just as substantial as the former. It's just that Nardos is better at piecing together words to make good views and opinions on every subject matter. Aqua is not a fashion model so she is not as sophisticated. But in terms of face value, I believe that they are of the same attraction and intensity.
Latvia (Jelena Keirane) - Without a doubt, the sexiest Miss Earth delegate of them all! Now more than ever, Jelena (pronounced "Ye-lay-na") has built a strong indelible image as a title contender. Adding to that my positive interview impressions of her, I daresay that she can take it all the way. She simply needs to play her cards right during preliminary rounds of competition.
Nicaragua (Karla Jose Leclair Monzon) - She is simply sweet and adorable! Just by observing her from a distance, you will know that she's still a girl by heart. But once she flashes her smile and gives a wink, you know that she has grown into a head-turning charmer who might just pull an upset from among the title favorites.
Philippines (Carlene Aguilar) - She is definitely living up to the standards of being the host country's bet. There is no question that she is one of the friendliest. Proof to that is our observation that she does not stick to just one group of girls. She blends with the Europeans, Asians, Latinas, North Americans, and Africans quite easily. In addition, she has physically improved a lot. Being very Asian-looking, she projects with just the right amount of confidence, aggressiveness and mild-mannered ways. Her figure is a lot better than when she won Miss Philippines, and there is a marked freshness in her smile and aura.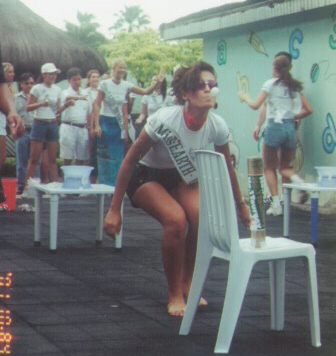 Singapore (Calista Ng Poh Li) - Ok, she is definitely pretty and queenly in bearing as well. She also has this inner sensuality everytime she walks and projects. What I appreciate most, though, is that she is now more open and engaging. She interacts better now, and if you ask me, she could be one part of the strong Asian force who could do well during Miss Earth finals.
Thailand (Victoria Waccholz) - Thais have a soft spot in my heart, and Victoria did not fail me. I know that she still needs to shed off a few more pounds to give her body a slimmer figure, but she has such a wonderful smile and clean, clear skin I can't help but notice. In fact, she has one of the most flawless complexions among the delegates. Her genial ways add up to a good over-all package.
U.S.A. (Abby Royce) - By now, Abby must have already established a "big sister" image to the other girls. I say this because during yesterday's activities, she acted and spoke like a leader (on top of being one of the team heads during the games). Upon close observation, I noticed that she has genuine concern for others. So far, she is not on my current Top 10 list, but you can quote me on this, "She is the one true spoiler come pageant night." She may not be the prettiest or the most striking, but in terms of the Miss Earth objectives and future projects, she has the right ingredients and mind-set to meet a year-long reign's demands of a beauty title focused on environmental concerns.
Venezuela (Lirigmel Ramos) - I must say that Lirigmel is so different when not wearing long gowns or national costumes or swimsuits. She is the picture of a simple girl who remains unaffected by the hard-driving standards of the Venezuelan beauty industry. Unlike the ladies of Osmel Sousa who move and speak with clockwork precision, this Caracas native behaves the way she is most comfortable with when not under the piercing eyes of judges and the pageant-following public in general. Yesterday, she was mingling with everyone in the most teenage fashion. This, I believe, keeps her feet firmly planted on the ground. I am reminded of an answer she gave to one of my previous interview questions about her real objective in joining Miss Earth - to win or to just participate. She openly expressed that she wants to win, but even if she does not, being here in Manila and sharing three weeks of her life with the other candidates make her feel like a winner already.
You might ask me, so what is the significance of the Fun Meet? For starters, it made the girls grow closer to each other. It also showed us the "normal" side of beauty queens. But more importantly, it gave us here at Mabuhay Pageants a more comprehensive assessment of each delegate's strong and weak points as we move closer to knowing who will win the very first Miss Earth title on October 28. By the time each one of us comes up with Top 10 predictions late next week, my degree of confidence will already have been very high. Watch out for my brief one-on-one interviews with Misses Kenya, Malaysia, Latvia, Kazakhstan, Denmark, and Croatia. Till my next report!