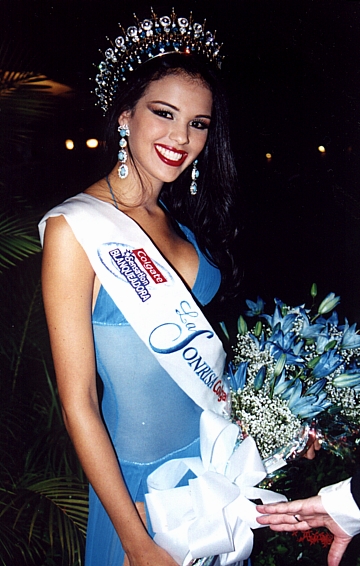 Lorena Delgado, 3rd runner-up in the 2001 Miss Venezuela Contest was initially announced as Miss Earth Venezuela. Even before the excitement peaked over choice as the Venezuelan delegate to Miss Earth, an official from the Press Department of Osmel's organization advised Miss Earth that they are no longer sending Lorena Delgado nor anyone for that matter. They cited "economic situation" as the reason for their FINAL decision not to send a representative.

After having almost all of the candidates save for the last 4 arrivals, I say that Lorena Delgado stood a good chance to become Miss Earth 2001, although she would have faced tough competition from 2 or 3 of the delegates.

Lirigmel Ramos, however, is a very worthy representative - very young, simple, all-natural beauty who is avery humble, nice lady. I first met her during the Welcome Dinner at the Coconut Palace. Fresh from a long haul flight, Lirigmel proved to be very charming.

When I asked her how she felt when she was told that she would represent Venezuela in the first Miss Earth tilt, she replied that she had mixed emotions. She felt sad for Lorena because she felt that she would have made a very strong contender for the crown. But she admitted that she was also very happy because she was advised of this development on the her birthday - the day she turned 19 years old. While Lirigmel is also expected to perform creditably, Lorena would have had better chances.

If and when Venezuela competes again next year and with some luck wins the Miss Earth title, then it would not have been as sensational a win. There will be other Miss Earth winners after 2001 but the first Miss Earth will always be remembered - just like the first Miss Universe, Miss World and Miss International. Venezuela lost its chance to make history by winning the first ever Miss Earth title.

One's loss is another's gain. Vemenezuela's loss is __________ 's gain. I think I know already whose gain it will be but I will report on that later. Thank you once more to Lirigmel Ramos and Miss Global Beauty Quest Venezuela.