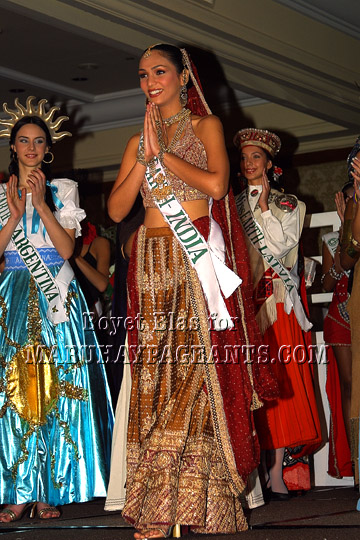 A plethora of colors and culture greeted a select crowd last night at the Grand Ballroom of the Hotel Intercontinental as the Miss Earth 2001 delegates proudly displayed their heritages during the National Costume presentation. Some grandiose, some people, but all representative of their native country's cultures, the kaleidoscopic presentation show was worth the two-hour wait where guests mingled about while feasting on various hors d'oeuvres and an open bar where they serve red and white wine.

As in the swimsuit presentation show, Charlie Ysmael acted as emcee for the proceedings. Allow me to describe what the delegates wore and presented that evening:

1. ARGENTINA. Daniela wore a flouncy and shiny blue and white dress with a sun design sewn in. As she explains it, it represents the colors of her flag, with the blue motif representing the color of the sky, and the sun an integral part of the Argentinian flag.

2. BRAZIL. Definitely evoking the grandiose carnival in Rio, Simone caused a sensation with her sexy flesh-colored stocking getup framed with fringed feathers and accompanied by a humongous red and yellow-feathered golden sun backdrop. 2nd place behind the winner of Best National Costume.

3. COLOMBIA. Let's just say it's pretty resourceful – wear a simple fuchsia evening gown and add native-looking gold accessories, and you become a native princess.

4. CROATIA. A very traditional and solemn costume featuring a mint-green coat with a beige gown underneath. The entire getup looks perfect for going to church (as explained by Ivana – FYI: Croatia is predominantly Roman Catholic), but take off the coat and it looks like a stylishly lovely beige evening gown with geometric patterns perfect for a night on the town.

5. DENMARK. She wore a magenta and green milkmaid costume. As Catherine explains it, the design of the costume came from the 1830s and was worn by farmers and now by Danish folk dancers.

6. DOMINICAN REPUBLIC. The costume was a simple white Caribbean dress adorned with red and blue flowers. In Spanish, she called it "Lavandera Dominicana" – I presume the word "lavandera" doesn't quite mean the same thing it does here (which is "laundrywoman").

7. EL SALVADOR. A simple Mayan costume with a wearable (meaning: not grandiose) but intricately-designed headdress.

8. ESTONIA. Astute Miss Universe watchers would have seen Evelyn jumping in this getup during the finals telecast. It turns out, the dress was worn by her grandma, and she hopes she can pass this dress on to her children and grandchildren. She also brought along with her the Estonian flag and bluish flowers that are the national flowers of her country. Evelyn explained the significance of the three colors of her flag: blue for the sky, black for the ground, and white for freedom.

9. ETHIOPIA. Miss Ethiopia truly works the stage as a picture of regal African elegance in pale gold costume made of cotton and gold thread with added drama using a matching shawl.

10. FINLAND. It's a sexy dark blue ice queen getup, with a crown depicting ice. In my opinion though, the exposed flesh makes it more of a Mediterranean sea goddess than a Nordic ice queen. A human will freeze in the snow in her get-up.

11. GIBRALTAR. Because she doesn't like the usual Gibraltar costume (generally a military get-up), she herself designed a more culturally reflective costume, with a top depicting the famous "Rock of Gibraltar", and a flouncy blue-green skirt depicting the Mediterranean shore and the blue sea with the creatures and objects found there. The costume perfectly complements the themes espoused by Miss Earth.

12. GUATEMALA. It's a blue-violet Mayan costume with peacock feathers rising above her head.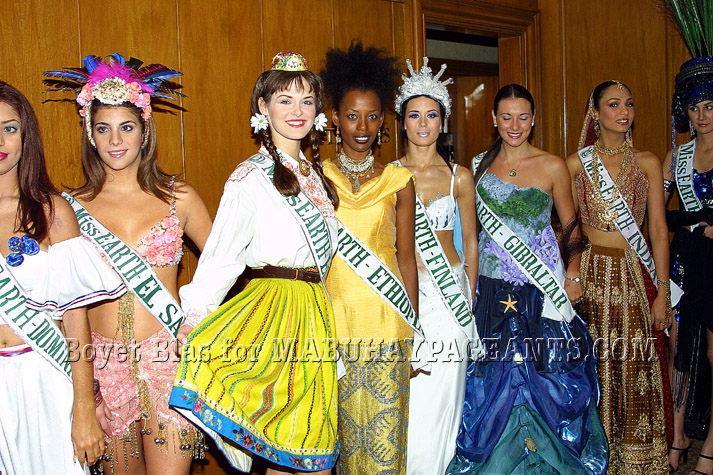 13. INDIA. It's a very graceful gold and red sari with a lot of subtle intricate patterns. Shamita explained that it represents the purity and innocence of an Indian bride. Her very graceful and elegant presentation was key to her victory in the National Costume competition.

14. ITALY. It's a sequined one-shoulder gown (think Aishwarya Rai's winning Miss World gown for the basic design) that depicts the colors of the Italian flag. Monica sported the famous Sushmita/Aishwarya/Mpule flowery beehive hairdo (Monica is such a chameleon, it turns out, with various looks in her public appearances).

15. JAPAN. An intricately designed red, green and gold kimono accessorized with a silver and gold fan. Typically Japanese, but Misuzu was wondrously elegant nevertheless.

16. KAZAKHSTAN. At first glance, one would have visions of Merlin the Magician with Margarita's pointed-hat beige costume with flouncy green and red frills at the end of her sleeves. It turns out it's a traditional Kazakh bridal dress. She charmed the audience with her very graceful and flowery bow at the end of her presentation.

17. KENYA. Aqua sports a traditional tribal dress made of cow leather and accessorized with beads and feathers.

18. LATVIA. Jelena wore a nice traditional costume with a slight Scottish air to hit, with a hat, orange kilt and beige shawl.

19. MALAYSIA. Josie wore a simple yet elegantly traditional green and gold Basi Kabaya outfit adorned with a gold crown headdress.

20. NETHERLANDS. Jamie Lee was the comic highlight of the evening as she poked great fun at her klunky wooden shoes (in contrast to the graceful stilettoes sported by the other contestants) and how she humorously explained that the costume is no longer regularly worn by the typical Dutch (only farmers).

21. NEW ZEALAND. She sports a violet sea costume made of flax fringed with black feathers. I think I saw this motif at Miss Universe 2000.

22. NICARAGUA. It's a shiny blue and flouncy dress that Karla explained depicts peace.

23. PANAMA. She sports a grand light-orange-and-off-white Incan outfit adorned with golden trimmings. Grandiose feathered headdress.

24. PHILIPPINES. Carlene said it simply that the costume depicts the country as "pearl of the orient". But the costume is much more expressive and dramatic than that simple description. The pearl headdress, the Muslim-inspired design (though the low cleavage neckline is definitely NOT Muslim) and the silver fringes created a sight to behold.

25. PUERTO RICO. A glittery body-stocking costume featuring a blue-and-silver headdress and cape. The design on the body stocking depicts the natural and cultural landmarks of the capital city of San Juan, Puerto Rico (though the depiction of the "cultural" portion was obscured by the sash).

26. RUSSIA. Natalya sported a simple red Muscovite outfit with a silver shawl. What was more memorable about her presentation was her very flirtatious vibe throughout, bouncing around and teasing with the audience.

27. SINGAPORE. The most dramatic presentation of the night. She wore an elegant gold Chinese noblewoman dress with a red hat. After describing her costume, she then surprised everyone by flashing a sword. If she got a wire harness and levitates, hello Crouching Tiger, Hidden Dragon!

28. SPAIN. She sports a simple black and red flamenco dress.

29. TAIWAN. A nice and simple black sleeveless chi pao.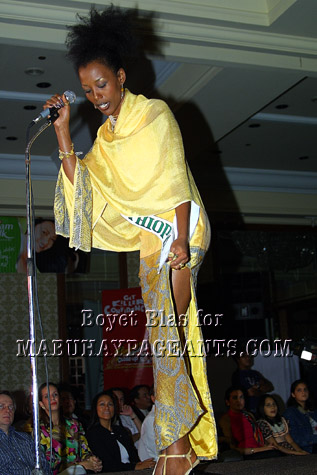 30. TANZANIA. Definitely proudly tribal and African with her beige-fringed mini-muumuu (didn't quite get what material is it made of…)

31. THAILAND. Victoria looks regal and elegant with her graceful maroon dress with a flowery motif adorned with gold jewelry.

32. TURKEY. It's a traditional gracefully-designed Ottoman costume featuring a hat, tunic and harem pants.

33. U. S. A. So oddly relevant with the recent events, as Abby's portraying the Statue of Liberty (albeit with a shorter hemline). Extra points for the silver body paint.

34. VENEZUELA. Lirigmel sports a tight red jumpsuit with black feathers, but the highlight was the dramatic black and silver demon mask with red and black feathers.

35. ZANZIBAR. She wore a simple red African dress accessorized with bead necklaces and a beaded purse.

Charlie introduced the two new arrivals for the night, including:

36. AUSTRALIA. A very simple blue athletic outfit with the stars found on the Australian flag. Petite at 5'5".

37. BOLIVIA. She wore a lovely, traditional flouncy red dress adorned with a sampaguita lei on her neck. She looks like a strong contender with her sweet, pretty face.

After the presentation, the first of a series of auctions took place. The representatives who participated in the auction include Argentina, Brazil, Colombia, Estonia, and Gibraltar. All bids begin at US$100. Here is the run down of items up for bids, as follows:

1. ARGENTINA. A carved fruit peel container with silver straw. US$100 was the final bid.
2. BRAZIL. A stuffed piranha. US$100.
3. COLOMBIA. A bronze ashtray with a sun design. US$200.
4. ESTONIA. A painting depicting children's hands holding mother earth, made by Evelyn herself with a message at the back of the painting. US$200.
5. GIBRALTAR. A set of hand-made crystal wine glasses made in the territory. US$100.

At the end of the affair there was dancing and a mini concert, though I think the majority of the guests preferred to go out and interact with the delegates. Some of the most popular ones, like Mz. Estonia, India, Brazil had to stay behind with crowds swarming around them while the other delegates changed into cocktail dresses to mingle with the crowd for cocktails. It provided a perfect opportunity for most of us to meet the delegates up close. One thing that is wonderful to see is that the ladies seem to get along pretty well and the language and cultural differences did not seem to be a hindrance. A wonderful experience to be had for all…