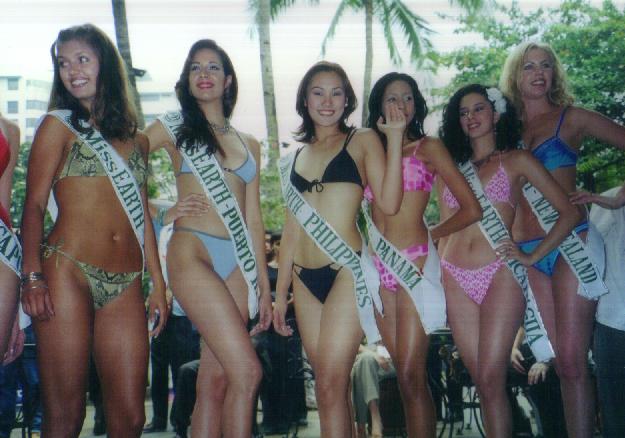 The Press Presentation of the 2001 Miss Earth candidates drew a big crowd which augurs well for this fledgling pageant. There was representation from tri-media but the most visible were the press photographers who walso cast their votes for Miss Photogenic. I actually voted for Miss Argentina as Miss Photogenic but I will not be surprised if Miss Singapore gets instead. Although quite pretty too in person, she registers so much better in pictures. As I mentioned in my article on my choice for the Star of the Night during the D.O.T. cocktails, they were just based on their evening gown, poise and over-all look. Don't be surprised then that some of of my choices that evening get a lower rank after the swimsuit presentation.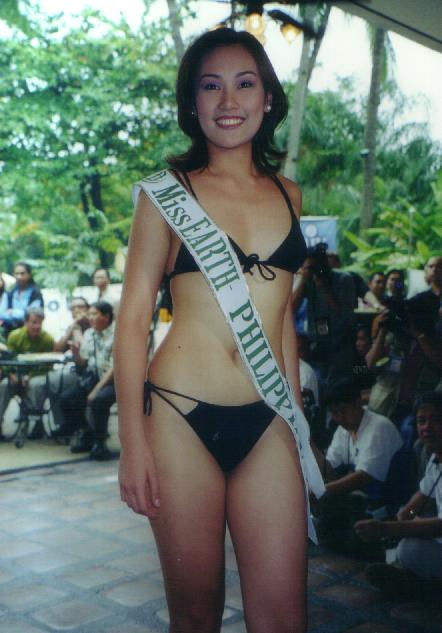 1. BEST IN SWIMSUIT - MISS LATVIA JELENA KEIRANE This lady without doubt has the best figure I've seen in years. Most candidates looked good sideways where their curves show but their figures are not well-pronounced when viewed upfront. Jelena is one rare woman who shows a beautiful shape even upfront. One of the tallest at 5'9" and a figure of 34-23-35, all packaged with clear, smooth skin and legs that seem endless - she's a shoo-in for the award.
Others will be mentioned in alphabetical order :
ARGENTINA - Daniela Stucan. Very beautiful face, stunning beauty, tall with nice legs and fair complexion. Top 5 material.
CROATIA - Ivana Galesic. Smart and confident tho' her beauty strikes you quite strongly. Trim body, nice skin tone and shapely legs. Top 10 material.
DENMARK - Catharine Svensson. I was fascinated with her when I first saw her in her bikini during the first photo shoot. Tall and slim, luscious tan, smooth and clear complexion and even skin tone. Long, shapely legs.
ESTONIA - Evelyn Mikomagi. Whatever contest she joins, she's always the darling of everyone. She charmed the audience with her spiel in Pilipino. Tall at 5'8" she displayed her lovely figure of 36-23-35.
ETHIOPIA - Epiphany Talihun. The surprise of the afternoon and eliciting the loudest applause. Very chic with her frizzy hair, stylishly brushed up like a crown on her head. Master of catwalk and posing. If we judge by the audience response, easily Top 5.
INDIA - Shamita Singha. A lookalike of Aurora Pijuan, Miss International 1970, was also one of the favorites. She stands 5'8" and measures 34-26-36. Luscious golden brown skin.
KAZAKHSTAN - Margarita Kravtsova. Towering beauty at 5'10" and measures 36-25-36. Very charming. Top 10 material.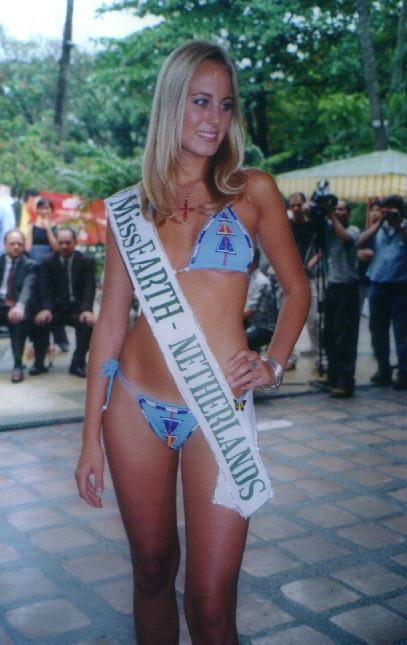 PHILIPPINES - Carlene Aguilar. One of the taller candidates at 5'8". Clear, smooth-skinned morena beauty. Trim body and nicely-shaped legs. She finally found the right make-up that could put her in the TOP 10.
PUERTO RICO - Amaricellis Reyes. One of the taller delegates at 5'10", she measures 34-25-35. Nice body, long legs and smooth complexion. Very charming, good projection. Top 10 material.
Miss Brazil Simone Regis did not fare well in the swimsuit presentation. Although she, together Miss Ethiopia had the best presentation, she may not get a very good score in this event. Her sophistication, regal bearing and good catwalk hopefully would pull up her score, offsetting minus points for being bottom-heavy. It's still along way to go and we might have more surprises to come. Miss Bolivia arrived at the costume presentation but offered some promise in the looks department. We'll see how the ranking changes when the evening gown competition comes.