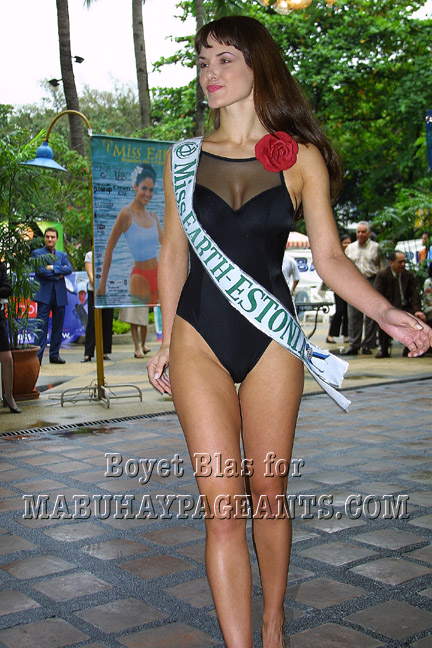 Just like Joseph Vitug, it is my first time covering an international beauty pageant. I arrived two hours before the presentation but I could already feel the excitement of being a part of such big event. Though my job with Mabuhay was focused on doing the technical stuffs, I had decided to help the other correspondents in doing the interviews. You could view my interviews on 3 delegates at the interview section of this page, but let me give you my impressions on the delegates.
First Batch – What a strong group of delegates, most of them made an impact to the people who were present at Hotel Intercon's pool side. The following are my favorites :
Argentina : Latina doll! A shoo-in for Miss Photogenic, this woman knows how walk as if she's doing it on the ramp. I wonder why she didn't make the top ten in Miss World two year ago? With perfect body, lovely face and strong personality; she'll give the other delegates a hard fight for the crown.
Brazil : Oh boy, this Amazona exudes with sensuality. Well toned body and a very striking face , Simone will give Daniela a neck to neck fight for the title. Definitely a top ten material if she'll dance the right steps during the preliminaries. One of my top ten picks.
Denmark : If Latin America has Daniela, then Europe has her. A European Barbie, her height and beautiful face will be the factors to make her enter the top ten.
Estonia : She did it again with a bang! Receiving the loudest applause, Evelyn made herself endearing to the press people when she introduced herself in Filipino. She really knows how to play her cards well. Her Miss Universe experience is really a big factor to make her be noticed here in Manila. Another top ten material.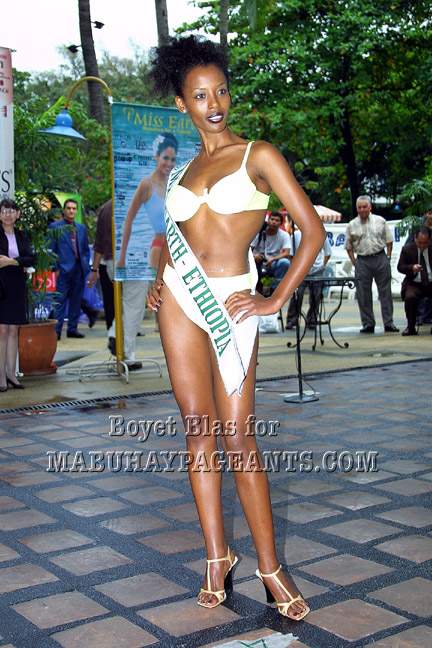 Ethiopia : Talk about African royalty, this woman exudes class and confidence. The biggest surprise today , she wowed the press people with her good English and endearing personality. Manila's biggest TV networks gave her the longest interview time among the delegates. The strongest African delegate, I won't be surprised to see her in the top ten. Another fave of mine, Mabuhay's correspondents named her as Miss Popularity due to the impact she made today. She did good in my interview too. It's like talking with Zoraydah Ruth Andam and Sushmita Sen – very well versed.
Second Batch
Gibraltar : Though she doesn't have a perfect body, what struck me most is her pleasing personality and beautiful face. Her face is very endearing and the longer you stare at her , the more she enchants you.She might get one of the sponsors award; Miss Personality I guess?
India : Though her body didn't impress me most, it was compensated by her striking face and good walk. This Indian lass reminds me of past Misses India who went to beauty boot camp and made well in the international pageants. If it's from Feminina India, it must be good. Another shoo in for the top ten spots.
Kazakstan : She wowed us last year in Miss World, I think she'll do better this year. Another European Barbie, everything about her was just perfect: skin tone, body, face. Perfect features for a perfect title, Margarita will definitely shine come October 28.
Kenya : Africa became stronger with the entry of Aqua. You can't just ignore this woman which had a big impact on me. Her face exudes confidence . Who will not air such confidence when you have a well toned body and a very striking face? Come finals night, we might see two African queens comprising the top ten.
Third Batch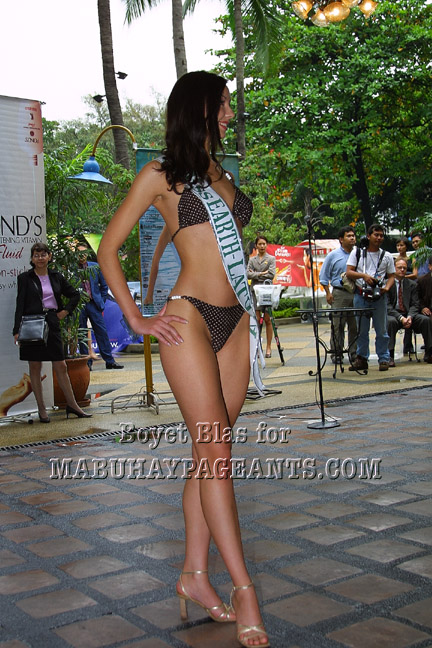 Latvia : If there's one award that I'm sure of for this Easter European lass, it will be the Best Swimsuit Award. She has the most perfect body and she carried it well oozing with elegance and sex appeal. Jelena really ruled today's event.
Nicaragua : Her height might be a minus but this girl has the most striking face among the 40+ delegates. Her face exudes brilliance which illuminates your day. One of GerryD and Boyet Blas' faves, another strong Latina to beat.
Philippines : Honestly speaking, she didn't make a impression on me when I first met her for an interview with Mabuhay but her showing today cleared everything on my mind and made her as on of my top ten picks. She may not have the best body but she knows how to carry it well.
My faves so far. But this list might change as the pageant progresses. Seven ladies are expected to arrive anytime this week.
Ethiopia, Argentina, Brazil , India, Philippines , Denmark, Kazakstan, Estonia , Latvia, Nicaragua