October 12, 2001 " Miss Estonia - What a brave soul ...by kyle t."

The Miss Earth 2001 Press Presentation according to kyle t." The Mabuhay Pageants team came in full force to attend the Press Presentation of the Miss Earth 2001 candidates at the poolside of Hotel Intercontinental Manila. Gerry Diaz, Boyet Blas, Ed , Joseph Vitug, Joey Guilas (currently news reporter of a major network), and myself were all raring to view the candidates up close and personal. This being my very first press presentation - and in the international level at that - I initially had apprehensions on how to go about the process of conducting myself in such an activity. But with the all-out support of my colleagues, especially Gerry (who by now is a walking authority on Miss Earth) and Boyet, everything went smooth. It rained the whole night and morning prior to this afternoonís gathering but not to the point of dampening the affair altogether. As is expected, media representatives from RPN-9 (Miss Earthís Official Broadcaster), ABS-CBN 2, GMA-7, NBN-4, and the leading dailies, were everywhere.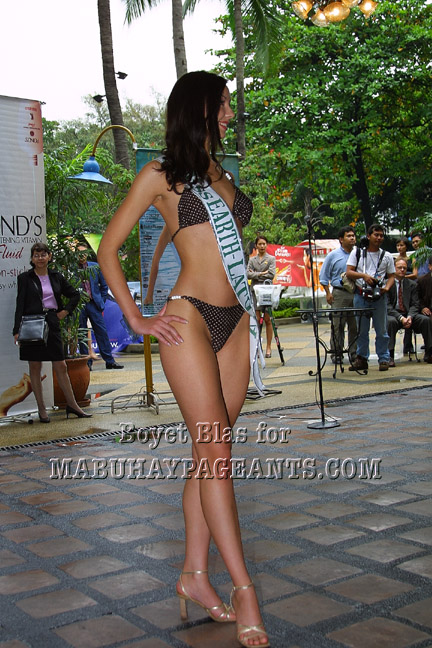 Carousel Productions, headed by Ramon Monzon, Lorraine Schuck, and Peachy Veneracion, were such gracious organizers that all those who attended were treated to lunch in one of the hotelís restaurant outlets. Press kits were likewise given to everyone. Letís buckle down to business now. The 35 official candidates (with 8 more ladies expected to arrive within the next two days) were presented in two-piece swimsuits of their choice. Since they were called by host Charlie Ysmael in alphabetical order, Miss Argentina, Daniella Stucan, paraded first. And if she provided signs of things to come, it would be an understatement to note that this batch is truly outstanding. One by one, the other ladies followed in three groups, before they collectively sang the Miss Earth theme song, "Woman of the Earth" towards the end. I lost my count on how many drew oohs and aahs from the audience because so many candidates are so beautiful and mesmerizing. In particular, the ladies from Africa (Misses Ethiopia, Kenya, Tanzania, and Zanzibar) were greeted with warm applause. Another well-received lady was Miss Nicaragua, Karla Jose' Leclair Monzon, who is such a pleasant sight to behold. She actually exceeded our expectations.
In person, she radiates an electrifying presence. Miss Brazil, Simone Regis, is smoldering with beauty, elegance, and aura. A definite Top 10 material, if you ask me. But if there are two delegates who literally stole the limelight from the rest, they would have to be Misses Estonia and Philippines. Evelyn Mikomagi introduced herself and went on a short spiel in Tagalog! What a brave soul! Carlene Aguilar, on the other hand, surprised a lot of the press people with her new-found confidence and jaw-dropping figure. Wearing a skimpy black two-piecer, she maximized her hometown advantage by strutting her stuff to the fullest. I overheard quite a number of attendees who stated that she is one of the two prettiest asian contestants, along with Miss Malaysia, Joey Eng Li Tan. In my opinion, the girls who stood out during the press presentation were Brazil, Estonia, Nicaragua, Latvia, Kazakhstan, Philippines, Malaysia, Argentina, India, Ethiopia, and USA. If I had to choose one lady who can be declared Best In Swimsuit, it would have to be Miss Latvia, Jelena Keirane. Her 23-inch waistline is simply hard to ignore. As for Miss Photogenic, it might be a toss-up among Misses Brazil. Argentina, and Estonia. So far, the most interviewed ladies are Misses USA Abby Royce, Estonia, and Ethiopia, Nardos Tiluhan. This early, they are shaping up to be the more profound/intelligent ones in the group.
Next stop, the National Costume Presentation which is scheduled on Friday night, October 12.