Kyle T. has given such a vividly eloquent review of the Miss Earth 2001 Coronation Night, it's very difficult for me to follow in his footsteps. But I'll try my best to offer my two-cents' share of my impressions about the event. Anyway, I also apologize for the delay of making this report – I have so many pressing commitments in my day job that I barely had time to squeeze in the task of writing this piece (I was extremely exhausted – I even had to work the Sunday when the Miss Earth finals was being held). Good thing that starting today, I have a long vacation break – management declared a full-day work shutdown for Halloween and the day after All-Souls.

The Miss Earth 2001 coronation night as a competition turned out to be a night of surprise upsets and revelations – and I meant that as a supreme compliment. As a show, however, the near-seamless presentation that was the Miss Philippines (Earth) pageant was unfortunately not replicated, even with the same type of staging (forest backdrop in the first part, spare laser light stage in the second part) as in the local version. However, it was not an embarrassment either. Generally it's a good enough debut for a fledgling pageant, though there were some rough patches that had to be overcome for it to overtake the Miss International pageant in prestige (though it has come quite close, I might say).

Let me dissect the pageant according to its components, as follows:

A. HOSTS

Actually, Jaime Garchitorena, Channel V VJ Asha Gill and Thailand's Miss Asia Pacific 1997 Emma Suwanalat were very competent and were the pictures of professionalism throughout the program. In between the lengthy breaks due to technical adjustments, the audience in the UP Theater was treated to the humorous and off-color banter between Asha and Jaime. Their banter somehow reminds me of Sonny and Cher during their 1970s variety show heyday, replete with the requisite put-downs (Jaime called her a man who just had a sex-change operation, while Asha responded by calling him "small" in more ways than one). I don't know if the ribbing was good-natured, or it's a reflection of mutual loathing, but it makes for fascinating viewing. The TV audience would not have the privilege of witnessing this priceless stuff. I agree with Kyle that in some ways, Jaime was the "weakest link" of the three co-hosts, but just like the semi-finalists in this pageant, he proved to be a worthy host despite a boo-boo in mixing up the procedure of the final four round, forcing a re-take. I wouldn't mind having him back next year, along with Asha just to see how far their ribbing and hilarious put-downs would go…

B. OPENING NUMBER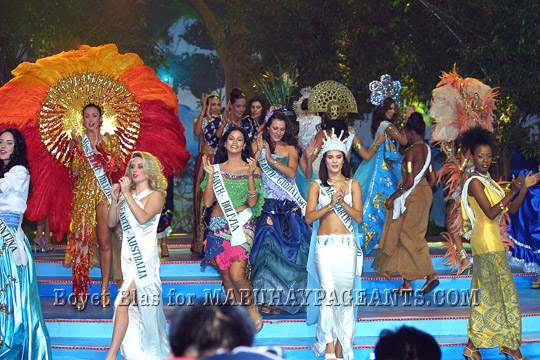 The dramatic intro to accommodate Chin-Chin Gutierrez actually improved the Dero Pedero-penned theme song. Chin-Chin was perfect as the forest nymph who welcomed the parade of colorful costumes sported by the Miss Earth delegates. Unlike the opinion of the majority of the people, I hated the Miss Earth theme song, because the synth arrangements are too embarrassingly threadbare, cheesy and dated (too 1970s disco-ey, and it's not Daft Punk–type of retro disco). If you ask me, the basic melody and the relevant lyrics could stay, but I think it's time to consider a new arrangement. Boom Dayupay of Kulay comes to my mind as I want something that sounds hip and cool, but I think Ryan Cayabyab could be our best bet to reinvent the theme song – he can give it some dramatic flourishes and some fresh, innovative touches. Anyway, I have also observed that for the 37 of the 42 contestants I saw in the National Costume competition more than a couple of weeks back, a few of those delegates changed their costumes for finals night – and in general, they were better than the ones they wore at the Hotel Intercontinental presentation. These are: Australia (a more feminine and less-sporty get-up), Bolivia (a more Indian-style costume instead of the flouncy maroon dress she wore then), Colombia (a nice Hispanic peasant dress instead of the pink evening gown that she tried to pass off as a costume with the gold accessories), and Zanzibar (a much nicer blue African dress).

C. FASHION SHOW / SWIMSUIT PARADE

Actually, this portion was probably the main contributor why this pageant overshot its expected three-hour running time (but I think the problem was mainly contributed by the constant barrage of film segments promoting the sponsors in between commercial breaks – but then again, without those very sponsors Miss Earth will never come to be so we should be thankful for them). Still, seeing the delegates parade in environmentally-themed clothing from the Fashion Designers Assocation of the Philippines then seeing them in gold printed one-piece swimsuits (which they wore at the recently defunct Dos Palmas Resort in Palawan) were stylish delights. The delegates were presented in groups of five (in groups of six for the last two batches) in both sequences.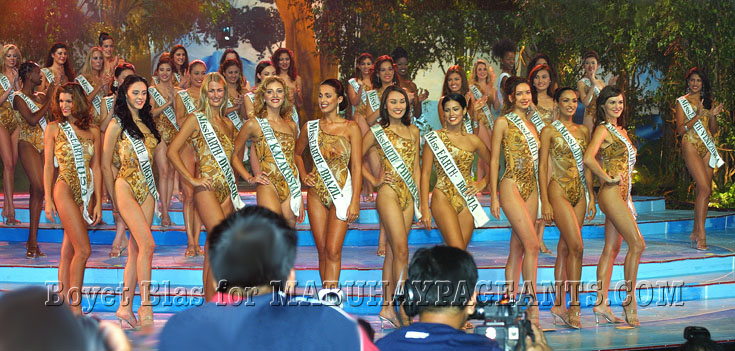 D. SEMIFINAL ROUNDS

The three semifinal rounds were conducted almost seamlessly, though for the first half of the interview segment, the semifinalists had to walk further in front of the stage to look at the wide screen before returning to the host (Jaime in this case) to answer the question. That problem was rectified when the production staff brought a portable screen for the semifinalists to view in the second half. By the way, the semifinal interview format was the FINALS interview format for Miss Philippines (Earth) – after casual banter the delegates will look at an environment-themed photograph and make their own impressions / interpretations on that photograph. I like this format, and it's worth keeping.

In the swimsuit portion, the candidates sported blue two-piece bikinis. Heterosexual males tuning in and in the audience witnessing the event live would relish at the sight. For television viewers of the evening gown parade, they will be treated to an oglefest of the semifinalists in bikinis walking on the beach (presumably Palawan) prior to showcasing the ladies strutting glamorously in their evening gowns.

E. FINAL ROUND

I don't know why they only select four instead of five finalists – "official" reason was because of the perceived four ancient elements in this world: earth, wind (air), fire, and water. But I also half suspect it's partly also a budgetary consideration (it's a fledgling pageant, anyway). Anyway, I like the single final question format that has been done for years at the Miss Universe pageant. The titling of the runner-up honors as other "elements" was a nice innovative touch and helps exalt the runner-up position (hopefully the cash award will likewise be exalted in the coming years).

F. PRODUCTION VALUES

For the people in the audience of UP Theater, it was a tiring five-hour taping marred by technical glitches and lengthy technical set-ups (the biggest problems of the night, in my opinion). I don't know why the audio-visual equipment seems to conk out in between sequences. You'd probably think it's because of our third-world standards and technology. But then, reports of technical glitches also happen in first-world countries like the US – the reportedly glitch-filled VH1 Divas' tribute to Diana Ross last year and the first-day taping of Michael Jackson's comeback "concert" at Madison Square Garden last September (only a few days before the infamous September 11 tragedy) came to mind. So, let's give the technical production people the benefit of the doubt. Hope they get their equipment in perfect order next year.

Now, I know everyone has a quibble about the crown – I am with them… The crown is too plain and non-descript. The winner deserves a better crown. Hope Carousel Productions finds another crown-maker that can make a more stately and elegant crown (or tiara) for next year's winner.

G. JUDGES

Because Kyle T. gave me the task of naming all of them, let me name them: chairman of the panel is National Artist Director (I think) Cecille Guidote-Alvarez (FYI: A National Artist shall always be a Nataional Artist; there is no such thing as a "former" National Artist). The only foreigners in the panel is this aging Japanese singer who wore a loud floral-printed hat named Kumiko Motoya, Paul Langlos of Avon Philippines, and Hotel Intercontinental's General Manager Michael Hammerle – or something to that effect (I'm not sure if I got his surname right). The other members of the panel include Palawan Governor Joel Reyes, Unilever's Ramon Gautico Macapagal, RPN-9's Atty. William Tan, Banco Filipino's Romeo Aldana, and Norberto Timbol. I know it's predominantly a Filipino panel and there are people who have an issue with that, but I believe that they have integrity with their final choices and had judged the delegates fairly – even though we all wish that they include at least one African delegate in the semifinals.

H. AUDIENCE

I forgot the capacity of the UP Theater, but it's relatively small. Anyway, the lower-box seats were mostly filled up. The audience is generally an upscale mix (a major contrast to the crowd at the Mandaluyong gym who watched the evening gown competition), with contingents from other nationalities like Indians and Brazilians rooting for their delegate. There are also the boisterous pageant-loving gay Pinoys who would scream out their favorite delegates ("We love you, Evelyn!" "Argentina! Argentina Corned Beef!" "Kazakhstan!" "Margarita!" "Simone! Simone!" "We love you, Shamita!" "India! India!") in between takes when the delegates had to remain on-stage. It was a lively delight. The eventual winner didn't have a vocal fan base, but the same boisterous crowd began screaming for her after she decisively nailed the final question.

I. DELEGATES / SEMIFINALISTS

There are actually no real surprises in the selection of the Top 10, as they were all among the buzzed-about favorites. However, we all wanted at least one or two African ladies to be included there, as Mz. Kenya and Ethiopia were very impressive (and Zanzibar not that far behind). Still, this relatively lily-white Top 10 is an extremely high-quality exemplary group. I'll pay tribute to my favorite non-semifinalists in a later posting, but for now, let me give you my assessment of the semifinalists' performances. I will be doing this in ascending order, with the sequence for the non-finalists (not in Top 4) a theoretical one based on my impressions of their performances.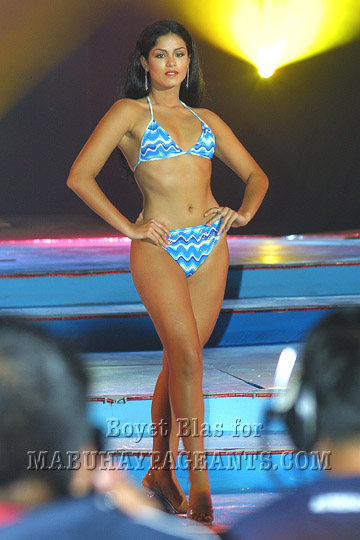 10. BOLIVIA – Catherine Villaroel. She made a bigger impression this time than her stint at Miss International last year, where she failed to make the Top 15 because of extreme competition from the likes of Korea's Tae-Young Sohn, Turkey's Hulya Karanlik, Canada's Angeliki Lakouras, Colombia's Carolina Cruz, several European delegates, and of course, the eventual winner, Venezuela's Vivian Urdaneta. She performed very well in this pageant, with her sweet personality and her striking resemblance to the world's most glamorous and beautiful movie actress Catherine Zeta-Jones key factors that help her shut out the formidable African contingent. Her interview in the semifinals was like her personality – really sweet, heartfelt and sincere. She genuinely enjoyed the places she visited, like Palawan, Cebu, and Manila. Her height and her bottom-heavy swimsuit figure are big minuses, however, that's why I put her in the bottom of this bunch.

9. ESTONIA – Evelyn Mikomägi. Ukrainian pole-vaulter Sergei Bubka was dominant in his event from the mid-80s well into the 1990s. Unfortunately, he only won one Olympic gold medal throughout his illustrious career back in 1988; in later Olympiads he just wasn't in his element when the event was being held, and he couldn't even land any other medal. A similar scenario happened with Evelyn in the interview portion of this pageant – all those who have the fortune to meet Evelyn know that she often aces this aspect. But she ended up the cellar-dweller during the interview round as she wasn't able to organize her good ideas together into a cohesive whole – when shown an image of a parched land she just rambled on about how sad it is that this happens, and then went on expressing disjointed ideas on how we should save the earth and not let this happen. Still, the interview wasn't a disaster at all, and she made up for it with her spicy swimsuit presentation and her sexy evening gown presentation featuring a shiny and new flesh-colored form-fitting gown (I'm in the minority here, but I preferred her white gown accompanied by an impeccably-styled coif better at the Mandaluyong gym – she's the only one among the finalists to change her gown from the preliminary competition to the finals). Despite the unexpectedly weak interview, she won over many fans and will not easily be forgotten.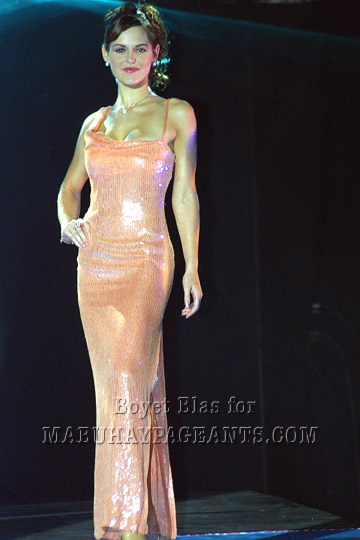 8. PHILIPPINES – Carlene Aguilar. It's not because we were the host country that Carlene made the cut – she made it on her own merits. Solid interview, freshly buffed-up figure, and a dramatic gown presentation brought her this far. She countered the bad international impression our country has recently as she declared how proud she was to promote environmental awareness and tourism and how we proved to the world "how safe it actually is". She was presented with a photo of a wedding where people are in gas masks, and she made a reference to "environmental terrorism" and how we must unite against it. She was a solid performer during the semis, but somehow we noticed a slight loss of vitality. Still, she made our country proud.

7. LATVIA – Jelena Keirane. This dead-ringer to Ashley Judd gave generic "motherhood" statements during her interview when presented with a photo of garbage, but she organized and expressed those generic ideas very well. She sounded like Audrey Hepburn when she spoke that night, in my opinion. Her sleek, slim figure and the graceful way she walks even in an otherwise indistinct light blue evening gown helped solidify her standing.

6. U. S. A. – Abigail Royce. She gave one of the best interviews among the semi-finalists, as she was extremely articulate when she described a photo of someone chopping a tree as an unfortunate reflection that we have become greedy. She's happy that advances in technology, like e-mail and the internet, helps reduce the usage of paper. Abby also gave strong presentations in swimsuit and gown, but I guess that in this very impressive group it's difficult for her to make the final four.

5. INDIA – Shamita Singha. She expressed a liking for our very own green mango shake (since she cannot eat much since she's vegetarian). She was presented with a photo of waterfalls, and she gave an excellent (albeit not-so-spontaneous-sounding) response about how we should preserve our forests and try our best to leave them untouched, so as not to tamper with the ecological balance. Despite cribbing from the Lara Dutta catwalk guidebook for the swimsuit presentation, the swimsuit round was probably the factor that prevented her from advancing further. She was impeccably elegant during the evening gown round. We all know she was personally very disappointed and distraught about not winning, because she was so driven to win (she wasn't even content with even landing a runner-up showing). Anyway, she otherwise made an excellent impression throughout her stay, and we hope she can find consolation with the numerous special awards she received (Costume, 1st runner-up in the evening gown, Miss Avon, Miss Lux Super Rich Shampoo, and of course, our very own Mabuhay Miss Internet).

Now, let's go to the Top Four: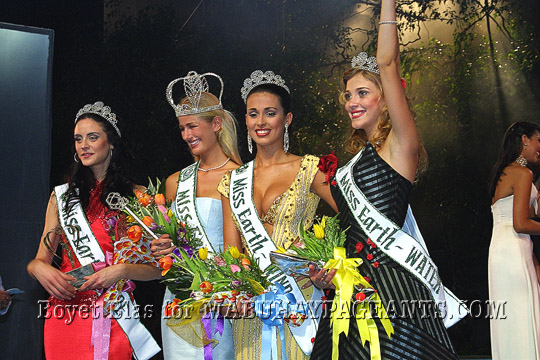 4. MISS EARTH-FIRE: ARGENTINA – Daniela Stucan. This lady was consistently at her peak throughout – she was in the Top Five in both the preliminary swimsuit and evening gown competitions. She was also extremely strong in the semifinal interview, where she graciously complimented Filipino men as nice and sweet. When presented with a photo of burning tires, she also gave an excellent response how that act is bad for everyone's health and its repercussions and damage would be difficult to solve and clean up. Anyway, much has already been said about her slim, sexy figure, her long ebony locks and alabaster skin, and her elegantly sexy red evening gown. It's a given she deserves a Top Four placing. Anyway, I think the reason why she ended in fourth place instead of higher in the final round was that she wasn't able to actually answer the question regarding finding the balance between technology and environment preservation as she merely mentioned that technology is important, war is not good, and that we have to keep our environment clean.

3. MISS EARTH-WATER: KAZAKHSTAN – Margarita Kravtsova. Judging from her semifinals interview, I thought she wouldn't go as far as the Top Four. I thought the limited English she communicated in that round would have been a handicap. I guess her excellent stage projection in both the swimsuit and evening gown rounds – along with her undeniably beautiful face and winsome charms – helped her sneak through the finals. I also thought that Daniela would also be ranked higher than her in the final round, but in hindsight, the quality of Margarita's answer was marginally better: at the very least she mentions the need for compromise between technology and the environment. She answered in Russian (or is it Kazakh – I'm not 100% sure in that aspect…) with a male Filipino interpreter doing the task. I think at the very least he did a better job than that male interpreter who interpreted Miss Turkey, Yüksel Ak's answers at Miss World 2000.

2. MISS EARTH-AIR: BRAZIL – Simone Regis. Because she could barely speak English, I underestimated Simone's communication skills. I thought the key to her landing the semifinals would be her elegant bearing, her charm and her spicily sexy classic good looks, and after that she would go no further. Imagine my surprise when her petite, apparently barely-out-of-her-teens Portuguese interpreter unlocked Simone's hidden gray matter. With the interpreter's help, Simone proved to be extremely articulate and made a lot of sense. She effectively compared and complimented the Philippines for its beautiful paradise beaches with Brazil's own paradise that is the Amazon River. When presented with a joyful photo of a child enjoying a blast of water, she mentioned how it is a beautiful picture depicting the pure joy of drinking fresh clean water. She then stressed how we should keep our air and water clean and prevent pollution from seeping through. Of course, her va-va-voom sexy yellow gown again drew complimentary gasps from the audience. She was a Top Four shoo-in. In the final round, Simone likewise gave a substantial (though an ideologically different) answer about how we actually don't need any technology in order to survive, even though now we use it everyday, and that what we could do now is to have an awareness program stressing our beautiful mother nature. But she's not the only revelation…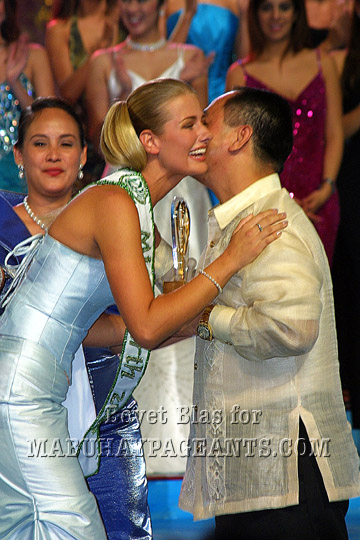 1. MISS EARTH: DENMARK – Catharina Svensson. Everyone knows she has an inside track to the Top Ten because she is very brainy and articulate (another proof that the stereotypes about blondes are false), but we all thought that others have more impressive swimsuit figures, prettier faces, excellent catwalk skills, excellent stage projection skills, stunning evening gowns, and even stronger communication skills (Estonia, India, Ethiopia, for example) that we thought she wouldn't go further than that. Her years in law school probably gave her the skills to think on her feet, and think she does – and she expressed her thoughts so fluidly at that. During the semifinal interview, Jaime complimented her on her statuesque 5'11" height and wondered if height to her was a factor in dating men. Catharina candidly and unassumingly replied that the men are often too intimidated by her height. When presented with a picture of people canoeing, the audience was extremely impressed with her substantial response accompanied by a very fluid and unrehearsed delivery of her answer – I wasn't able to take down what she said verbatim, but she stressed the importance of coexisting with nature, how it is important to preserve our forests. Catharina held her own during the swimsuit and evening gown rounds, and the goodwill generated from her excellent interview helped bolster her case in the Top Four. The final interview was her shining moment. While the other three finalists were either too generic or weren't able to organize their ideas well, Catharina, again with her fluid delivery and unassumingly sweet speaking voice, was the one who gave the best answer about how do we balance technology and the environment. She gave a specific example about how in Denmark there are new farming technologies that help boost food production, and how this occasionally leads to some bad side-effects, and that what was being done about it was to develop policies to regulate their use. With that brilliant answer we Mabuhay Pageants staffers (and the rest of the audience) know that the crown is hers. It was a well-earned victory.

It was a thrilling experience covering the first-ever Miss Earth pageant, and it's heart-warming to see that the girls in general are given the proper care that they deserve. Though I have a few suggestions on how to make this pageant better in the coming years, the debut started off well. Hope the efforts prove rewarding for Carousel Productions so this could become an institution like the Miss World, Miss Universe, and Miss International.

JUST ME!

JOSEPH