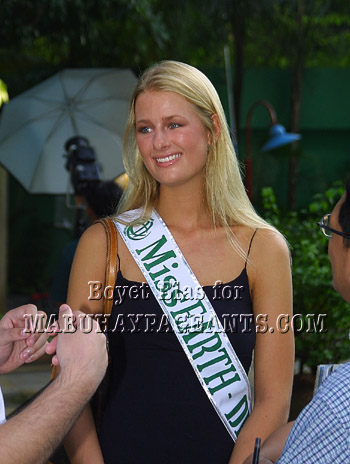 Faced with the daunting task of interviewing more than a dozen lovely ladies in my list of assignments, I had to make quick choices on which among them I would pull aside first. During the Miss Earth Fun Meet at Manila Polo Club, I had already scheduled Miss Kazakhstan #1 on my list. But since Margarita was clustered with a big group of ladies being briefed about the games, and Miss Denmark was just seated near where I stood, I approached Catharina not having the slightest idea that I will be chatting with the eventual winner. You see, if not for her height, long golden hair, and strikingly Nordic features, I would not notice her right away. Hers is so unlike the drop-dead beauty of Miss Bolivia. On her own, she is not the type who would vainly try to get your attention. In fact, she was a little cautious when I asked for a few minutes of her time. But as years of experience in conducting job interviews has taught me to establish rapport right away, I made her feel at ease and the one-on-one was on its way. The sound of loud dance music filled the air, though, so I gently led her near the polo field where we can hear each other clearly.
This lady is the picture of calm spontaneity. She need not brag about being intelligent because her brilliant mind comes to fore in every word that comes out of her mouth. For every question asked, she can express so much. I don't even need to have any interview guide anymore since I can easily pick a new query from her explanations alone. It is at this point when I decided that she indeed deserves to be on my Top 10 list. I thought to myself that should Catharina win the crown, she would make a perfect spokesperson for Miss Earth and all its designated causes. A 3rd year Law student with intentions of specializing in European Union matters and possibly touch on Environmental Regulations as well? Why not? There is simply no denying that she is the best example of a beauty queen redefined - simple yet beautiful, smart yet tactful, profound yet understandable.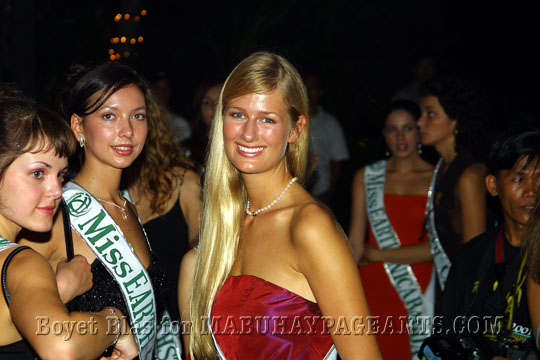 When Catharina mentioned that this was her first trip to Asia and that she is participating in Miss Earth just for the experience, she sounded so honest that I never doubted her sincerity in implying that she is not weaving dreams of winning over the 41 other delegates. I presumed that with her present preoccupations back home, carrying the responsibility of an international beauty title with an environmental cause can be quite demanding to the point that she might be forced to drop her Law studies for the meantime. Nevertheless, I sense that she is a mature individual who will not back out of a commitment she has pledged herself to upon signing as one of this year's aspirants. As fate destined her to be the first-ever Miss Earth, I am downright sure that she will face the challenge with open arms and a devoted spirit.
Mabuhay ka, Catharina! Good luck in your reign as Miss Earth! This early, I can already visualize your triumphant return to Copenhagen and how much you have made your countrymen so proud of you!