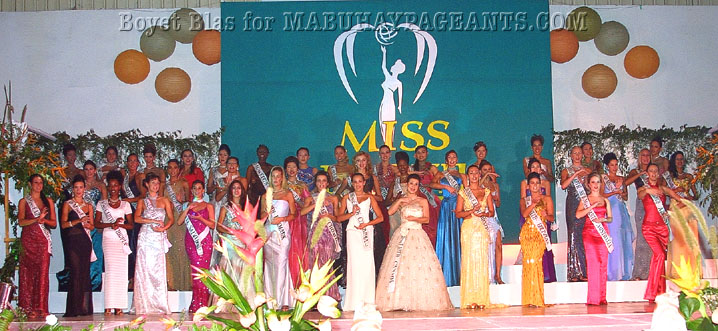 The newly chartered city of Mandaluyong played host to the evening gown competition for the candidates of Miss Earth 2001 last October 25, 2001. It acted as a culmination of the various cultural and civic activities the Miss Earth delegates performed in the fledgling city during the day.
The event was held in the long-established Mandaluyong City Gym, an open-air gymnasium beside the City Hall on Boni Avenue. People from all ages, sizes, religions (I saw a couple of two old Moslem ladies in the front rows of the audience), and social standings gathered at 7 PM to await this event. It was a lengthy two-and-1/4-hour wait before the show began, and the organizers filled up the time by playing repetitive video clips (featuring the Miss Philippines – Earth candidates) of the Miss Earth theme song, while a few at the rafters decided to peer at a night tennis match held beside the gym. The people were generally very patient waiting for the show to begin.
After the arrival of Mandaluyong's mayor Ben-Hur Abalos and his wife at 9:15 PM, the show promptly commenced with the National Anthem. This is followed by a flag parade by local cadets, who circled around the gym three times as a martial anthem touting the virtues of the city played (to the accompaniment of a marching band that didn't march but played at the side of the gymnasium). The fey yet lively and irrepressible local personality Nolan Vicente Angeles acted as emcee for the non-competition portion of the show. His first duty was to introduce a dance number by local all-boy dance group called First Attraction, who gave an energetic interpretation of Ricky Martin's "Livin' La Vida Loca". After that number, Nolan introduced the beloved mayor of the city to make his opening remarks. Mayor Abalos's remarks are fortunately substantial and mercifully brief, touting the economic strides his city took over the past 15 years and thanking the delegates for gracing his city with
their presence. This was then followed by another speech, this one by the wife of the head of the Metro Manila Development Authority (MMDA) Mrs. Corazon de Castro-Abalos (I presume she is Ben-Hur's mom), who spoke about her development programs for the women of Mandaluyong. What I noted most was that she referred to the pageant as "Miss Earth International".
After that display of "local flavor", Nolan turned over the hosting chores to the regular Miss Earth preliminary competition emcee, Charlie Ysmael. Charlie wasted no time in presenting the ladies, all bedecked and bejewelled in a colorful array of (mostly) exquisite evening gowns. No Minka Alagic-style disasters in the bunch [for non-pageant enthusiasts, Minka Alagic was Miss Slovenia at last May's Miss Universe pageant who was notorious for wearing this monstrous blue-and-yellow "superhero" disaster of an evening gown]. Almost all of the delegates introduced themselves with a greeting delivered in Filipino, then of course a message about the environment.
Now, here is the rundown of the gowns the contestants wore:
1. ARGENTINA – Daniela Stucan. With Daniela around, this year's Miss Earth competition always open on a high note as she made an excellent impression with her shiny, sexy, and elegant red halter gown. Daniela announced that she designed the dress herself. She carried herself impressively with her regal bearing.
2. AUSTRALIA – Christa Anderson. Another lady in red, though it's a little too simple and the hairstyle was tousled.
3. BOLIVIA – Catherine Villaroel. If Venezuelan contestants in Miss Universe tend to like white evening gowns, Bolivian delegates tend to favor the color yellow. Catherine wore a shiny yellow gown, with dangling gold accessories around the dress. It's a like-it-or-hate-it proposition (I personally liked it), but she carried it well with her beauty and her sweet charm.
4. BRAZIL – Simone Regis. It was a mixture of old-fashioned regal elegance and spicy Brazilian sensuality as Simone sported a sexy, low-cut bejewelled yellow gown. Generated a lot of appreciative gasps from the audience.
5. CANADA – Michelle Weswaldi. As an antidote to the preceding display of flesh, Michelle was the picture of debutante innocence in her white petticoat ballgown.
6. COLOMBIA – Natalia Botero. It's a beautiful yet simple bustiered white gown with a tasteful amount of sequins framing the bodice.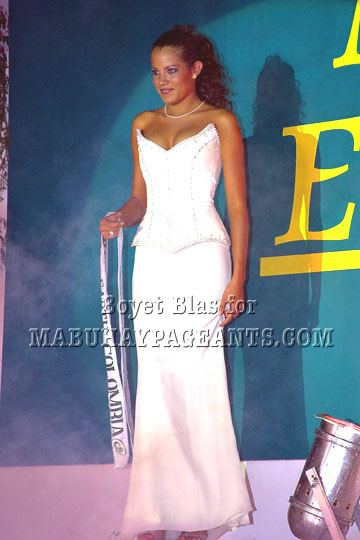 7. CROATIA – Ivana Galesic. Ivana strutted like a serious-looking Paris / Milan runway model in her stylishly printed lilac-grey gown with matching shawl. She somehow reminds me of Felicity's lead actress Keri Russell in her controversial shorn-hair phase.
8. DENMARK – Catharine Svensson. Catharine wore a simple, yet elegant, white (though Kyle sees it as powder blue) bodiced gown (similar in design to Miss Colombia's) with sexy strings at the back. After introducing herself she tripped a bit on her way backstage.
9. DOMINICAN REPUBLIC – Catherine Nuñez. The other Catherine wore a flouncy green ballgown decked with lots of flowers. She accessorized it with an Egyptian-style tiara on her curly haired head.
10. EL SALVADOR – Grace Marie Zabaneh. Grace wore a very flattering sequined purple gown. Simple, yet elegant.
11. ESTONIA – Evelyn Mikomägi. I thought Evelyn's going to recycle the gold Hillary Swank-esque gown she wore at Miss Universe and Miss Mesoamerica. Thank goodness that is not the case. This is the best Evelyn has ever looked. The white, sequined gown she wore transformed her into a regal Audrey-Hepburn-esque European princess -- if Audrey had a healthier-looking figure. Love the impeccably-styled upswept hairdo. As usual, also, she gave one of the best speeches, talking about learning to love oneself and finding your own inner peace. The results of the presentations (not in the Top 5 in the swimsuit presentation, for instance, and see below for the outcome of this competition) do not do justice to her actual performance, in my opinion.
12. ETHIOPIA – Nardos Tilahun. She was the first of only two delegates (the other is Miss Japan) to appear in a gown with sleeves. She wore a white short-sleeved see-through gown. If a Hollywood actress wears this number, she might go without underwear or be bra-less with thong panties. The modest white bra and panties Nardos wore underneath this gown actually made the gown more stylish and classy in my opinion. Of course Nardos continued to strut the stage with aplomb.
13. FINLAND – Martina Kortelampi. She wore a very well-designed and sleek black gown with a sheer midriff that has an opaque diamond pattern at the front midriff.
14. GIBRALTAR – Charlene Figueras. With the forehead jewelry on her head and her long, long locks parted at the middle and tied loosely and draped on her right shoulder, Charlene brought an exotic Indian vibe to her dark fuchsia number. Very unique.
15. GUATEMALA – Carmina Elizabeth Paz. Carmina sported a blue-green sequined and bejewelled number with a butterfly pattern at the back.
16. HUNGARY – Krisztina Kovacs. This statuesque six-footer caused a stir with her va-va-voom sexy extremely low cut glittering dark-gray gown showcasing her ample upper assets and emphasizing her hourglass figure. She and Miss Brazil made jaws drop and temperatures rise in this competition.
17. INDIA – Shamita Singha. Shamita cribbed a bit from the Aishwarya Rai / Lara Dutta guidebook as she sported an elegant, flesh-colored number that looks similar to Miss World 1994's winning gown. The twist on this gown is that there is no discernable pattern (it's a solid flesh color) except for the flower on her right shoulder. Almost as regally elegant as Aishwarya's number.
18. ITALY – Monica Rosetti. While Simone and Krisztina capitalized on their upper portions, Monica showcased her lower extremities with her glittery white gown with high-cut fishnet slits along both legs.
19. JAPAN – Misuzu Hirayama. The chic and stylish Ines Legron regime at Miss Japan-Universe aside, it seems that the Japanese people's notion of glamor and elegance consist mainly of humongous ballgowns and hoop gowns like Misuzu's pink and yellow number apparently inspired by Marie Antoinette.
20. KAZAKHSTAN – Margarita Kravtsova. When it comes to catwalk skills Margarita is peerless. She wore a diagonally striped dark green ballgown that she dexterously navigated across the stage. The best catwalk of the evening.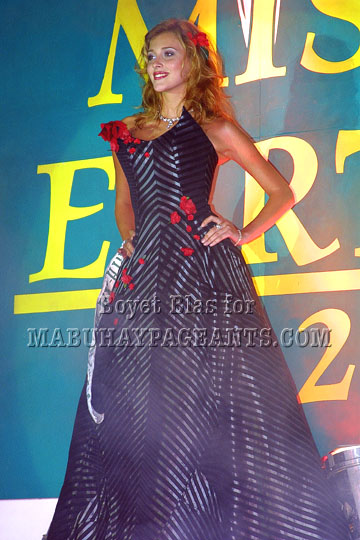 21. KENYA – Aqua Bonsu. Aqua was a picture of elegance in her simple, flesh-colored strapless gown. Her self-effacing charm won over the audience even as she mispronounced the host city as "Malanduyong".
22. LATVIA – Jelena Keirane. Jelena sported a shiny blue ballgown that she manages to carry very well.
23. LEBANON – Adelle Boustamy. Adelle was clad in a very simple rubber white gown accessorized with a necklace with a star dangling on it.
24. MALAYSIA – Joey Eng Li Tan. A sexy dark blue bra-and-skirt ensemble that showcases Joey's taut abs.
25. NETHERLANDS – Jamie-Lee Huismann. Jamie-Lee sported a two-toned green-and-grey slim and sheer sequined gown. I bet that if the klieg lights were brighter we would've seen a lot more of Jamie-Lee.
26. NEW ZEALAND – Abbey Flynn. It's a full-glitter dark silver metallic gown that gives a sexy, mermaid-like effect.
27. NICARAGUA – Karla Jose Leclair. Karla projected her sweet image to the hilt with this baby blue ballgown that has some silvery patterns along the bust line going down to the hem.
28. PANAMA – Aliana Khan. It's a mango yellow gown with multi-colored sequins along the bustier.
29. PERU – Paola Barreda. It's a pink and silver bustier gown with an open midriff. It's a sexy number framed by an unconventionally-styled coif (hair sticks out around her head).
30. PHILIPPINES – Carlene Aguilar. We have to hand it to our local girl – she is second to Miss Kazakhstan in catwalk skills this evening. The gown itself is also very dramatic – a black gown filled with glittery multi-colored leaf sequins and framed by a billowing sheer red cape. Exotically accessorized with coral jewelry and crystal beads. The most sensational presentation of the night.
31. PUERTO RICO – Amarcelis Reyes. Amarcelis shows a little spice in her elegant lacy white number with opaque patterns.
32. RUSSIA – Victoria Bonya. If in most presentations Victoria tends to project jacked-up-to-11 sensuality, this time she's in her best behavior as she's demure in her royal blue ballgown. Well, there is still a bit of her sensuality as the gown has a slit down the middle framed by a similarly-colored flower.
33. SINGAPORE –Calista Ng Poh Li. She sported a pink fluffy ballgown with a rose hanging on the right side.
34. SOUTH AFRICA – Inecke Van Der Westhuizen. Inecke was a picture of serenity in her burgundy-maroon sequined and bejewelled gown. The photos don't seem to do her justice as she looks exquisitely beautiful this evening – the camera tends to show harsh lines when in person those features are actually soft and subtle.
35. SPAIN – Noemi Caldas. Noemi sported a yellow gown with gold flowery patterns.
36. TAIWAN – Hsun Yun Chao. She was draped in a blue gown with zig-zag sequined patterns.
37. TANZANIA – Hilda Bukozo. Hilda wore a velvet burgundy number with a shawl.
38. THAILAND – Victoria Wachholz. Victoria made a strong impression with her elegant shimmering white ballgown. Thai ladies, especially back in the 1960s, are often impressive in this category and Victoria continues in that tradition.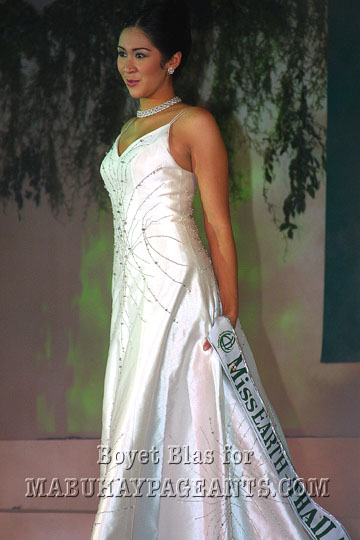 39. TURKEY – Gozde Bahadir. She sported a red gown with a sheer shawl, but the highlight was her slicked-back straight long hair framed by a jewelled headband. She also gave one of the best catwalks that evening.
40. U. S. A. – Abigail Royce. Abby looks like a princess in her shiny blue strapless ballgown. Simple in design, but very, very elegant. Abby glides here.
41. VENEZUELA – Lirigmel Ramos. Lirigmel wore a strapless, busty white gown accessorized with a pearl choker.
42. ZANZIBAR – Fatima Sheena Nanty. Fatima typically looks like a teenage ingenue, but this time she was a picture of polished elegance with her beehive hairdo and her simple yet exquisite black number.
While the judges submit their votes and the results were being tallied, the audience were treated to a song number by one of Mandaluyong's councilors, Cheche Pablo-Santos, who sang Basia's "Promises". Then, the First Attraction came back to do a more impressive, high-energy dance number to Missy "Misdemeanor" Elliott's "Get UR Freak On" (I didn't know you can do a high-energy number to such a song, which boasts an unconventionally exotic rhythm).
After the two numbers, Charlie Ysmael came back to announce some special awards. First was the Mabuhay Pageants Miss Internet prize and it went to Miss India, who got a trophy, bouquet, sash, and a nice prize. Gerry Diaz was on hand to present the award. Then, the Miss Friendship prize was announced, and it went to Miss Japan. Carousel Productions' EVP Lorraine Schuck, with her husband Ramon Monzon, were on-hand to present the award. As Misuzu received her award, her fellow delegates chanted in unison: "Mi-su-zu! Mi-su-zu! Mi-su-zu!" Of course the finale was the Best In Evening Gown award. Carousel Productions' President Ramon Monzon announced the top five in reverse order, and they are:
4th runner-up: BOLIVIA
3rd runner-up: BRAZIL
2nd runner-up: ARGENTINA
1st runner-up: INDIA
Best In Evening Gown: PHILIPPINES.
Photo ops then ensued, though that lasted a mere 15 minutes and the Mandaluyong police stepped in to whisk the winners away. The affair ended at 11:15 PM.
It's not because I am Filipino, but I do believe Carlene deserved her award. Her gown might be a bit busy to some tastes, but she carried it with great aplomb – she delivered her outfit with the sense of high drama and exoticism that it deserved. I'm also satisfied with India, Argentina, and Brazil's standings, but in the case of Bolivia, well, it's a good gown, but I'm more impressed with Miss Estonia's gown, and it's such a shame they ignored Miss Kazakhstan's command of the catwalk – probably the diagonally-patterned ballgown wasn't to the judges' tastes (though I personally liked it better than her Miss World gown).
Now, it's on to the grand finale at the UP Theater this Sunday!
JUST ME!
JOSEPH