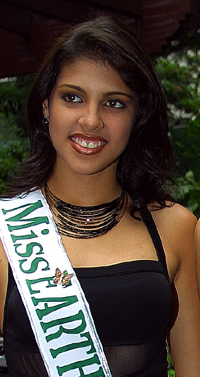 By Kyle T.
This lady is a sweet-looking morena. Some onlookers, who feel that she is a far cry from the likes of Eva Ekvall and Cynthia Lander, say that photographers swarm around her just because of the sash she carries. But in fairness to Lirigmiel, she is not far behind. Just give her a few more days, and she is all set to shine among the ladies. Now, since Miss Venezuela cannot speak English, it was hard for any member of the press to interview her, save for obliging to pose and smile before the cameras. Fortunately when I approached Miss Venezuela in one corner, Madame Joji Felix Velarde of Carousel Productions - who speaks Spanish beautifully - was passing by and could not help but notice our frustration in not being able to understand each other. She agreed to act as our translator for a couple of questions. Here goes:
What are your impressions of the Philippines before you came here?
"…I am surprised that I was coming here because I was only told one week before that I will represent Venezuela in Miss Earth, so I had to quickly prepare myself and study a bit of your country before going here. I read a dictionary (or encyclopaedia) and looked up on everything about the Philippines. I even looked in the world map. Right now, I am so filled with emotions. Your country is very far from where I came from! And I am surprised that I travelled very very far to compete in a foreign country. But I feel that everything is worth it because the people are very warm and friendly. "
Did you come here for the Miss Earth Pageant to win, to place, or to just participate?
"…I think that everybody here has intentions of winning the crown. But personally, I also have the intention of meeting and knowing different girls from many countries, learning their culture. Whether I win or lose, I feel that I have already won a lot just by being here."