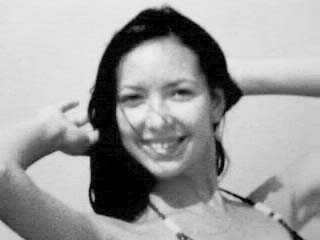 By Kyle T.
Having had the pleasure of meeting Jelena (pronounced "Ye-lay-na") up close
and personal was such a privilege. From the time she was presented to the press last October 11, I was already enchanted. Aside from the fact that she has the best figure among the candidates, I also discovered that she has such a warm and friendly spirit. She was smiling the whole time the interview was taking place and, based from my cumulative assessment, I am reserving one finals slot for her. Here are excerpts from my one-on-one with Miss Latvia:

What are your impressions of the Philippines so far?

"…Oh, I like the Philippines so much. I've been here only for a week but I already like it! But the weather is very hot, it's very difficult to get used to it because in Latvia we don't have this kind of weather. It's usually about 20-25 degrees during the summer."

Did you have any special preparations for Miss Earth before you came here?

"…Yes. In Latvia, I am a member of a non-governmental organization which is occupied by environmentalists. This is the reason why this theme is not new for me. And it's very close to my heart."

What for is the most important value or virtue any woman should have?

"…You know, we have the anthem (theme song) of our contest, and it is called Woman of the Earth. It's a very beautiful song. Everything is said there - the woman must be gentle, teaching, thinking, mothering. And these are very important values for a woman."

Some people look at beauty queens as "larger than life", how can you convince them that you are as normal as anybody else?

"…(laughing a bit) Well, I have a lot of friends and they are not beauty queens and they go to the university and study foreign languages and economics. These are people who are the same as I am. I may be representing my country right now but after my responsibilities, I'm back to my normal life back home."

After the pageant is over, how do you want the other candidates to remember you by?

"…(laughing once more) I don't know. It's very difficult but I think we'll never forget each other because we have spent time here together. We're doing everything together - eating, going out. We're like sisters already so maybe that's how we can remember each other."

Who is you roommate?

"Miss Malaysia…Joey."

Have you learned anything from her?

"…We're good friends now. She's very nice. It's very interesting to share a room with her because it's another culture and another mentality."

And have you learned to eat spicy foods like her?

"…Yes, very spicy foods! But not so much."

Thank you very much for sharing your time with us, Jelena, and good luck. We hope that you win the Best in Swimsuit award because you have a very beautiful figure!

"…Thank you…thank you very much!"